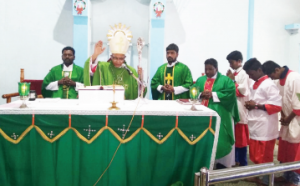 The Shepherd of Vijayawada, Most Rev. Joseph Raja Rao SMM, made his first pastoral visit to the parish of Gudivada on 20th February, 2019. The parishioners felt it as an exclusive privilege to have their Pastor in their midst. The day began with the Eucharistic celebration at 6:30 a.m. in the
morning. A good number of faithful participated in the celebration.
The Bishop had a meeting with the Missionary Sisters of the Immaculate, the community sisters of Gudivada. He had a dialogue with the religious nuns and inquired about their ministry both in the institutions and the parish. After that, Bishop addressed the big gathering at 9.15 a.m. comprising of members of Parish Council, Legionaries, Vincent De Paul Society, Youth, Village Elders and the local community. He gave the message basing on Telugu Region Pastoral Plan Book issued by TCBC
recently. Afterwards, His Excellency interacted with them by raising questions and asking proposals for effective pastoral ministry, especially the preaching of the word of God, the celebration of the Eucharist
and the frequent reception of the sacrament of Confession etc. He also explained about the concept of the participatory Church and
exhorted them to have personal access to the Bible.
The girls of Fr. Bianchi School spent time with their beloved Bishop before lunch and had a memorable time. After lunch all the parish records were verified by the Bishop. Then His Excellency had a personal meeting with the parish priest and the assistant parish priest. The Bishop instructed both the priests and encouraged them to continue their pastoral ministry with
zeal and love for the people.
– Fr. Ganta Praveen, Parish Priest & Vicar
Forane, Gudivada Parish