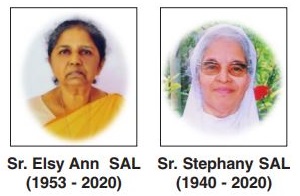 "My soul finds rest in God alone. My salvation comes from him. He alone is my rock and my salvation. He is my fortress, I will never be shaken". (Psalm: 62: 1-2).
God came down to the garden of St. Ann, gently plucked the beautiful flowers, Sr. Elsy Ann and Sr. Stephany, to adorn His seat of glory. And we their Sisters are left sad as we have lost them. The Lord visited Sr. Elsy Ann on 24th January 2020, Friday morning and Sr. Stephany on the wee hours of 25th Saturday at 1.30 am. He wanted them to be with him in His heavenly garden, to keep them close to His bosom forever…
Srs Stephany and Elsy hail from the same village Velichiyani in Kanjirapally diocese, Kerala. Both of them are the youngest of the four siblings. They belong to very devout families and there are many priests and religious in both of their families and some of them belong to our Congregation.
Sr. Elsy Ann was born to late Mr. Jacob and Mrs. Rosamma Kunnumpuram on 27-10-1953. From her child hood she loved the master of her life so deeply, that she left her parents and dear ones to belong to Him forever and joined the Society of the Sisters of St. Ann in the year 1970. She made her First Profession in 1974 and her Perpetual Profession in 1979. She was a nurse by profession and rendered her services in Ghodegaon in Maharashtra, Chirala and Vijayawada hospitals. She was Superior in Chirala and St. Ann's Home, Gunadala for a period of time. She was taking rest for the past 7 years in our Community at Tiruvuru.
As a young sister she developed rheumatic fever and she was on prophylactic penicillin therapy. For the past couple of years, she was suffering from poor health and was on regular treatment. During the year 2019 she took very ill and was admitted in our ICU. The treatment continued. She was physically weak and was taking rest. On 24th morning she had a fall and became unconscious and was treated locally. Thereafter she was brought to St. Ann's hospital and was declared dead at 10 am.
She is known for her love and affection, care and concern, courage and outgoing nature. For her, every one whom she met was dear to her and she did her maximum to bring a smile on their faces. She was a committed religious, serious and responsible to the task assigned to her. She maintained very good relationship with the poor people and reached out to them in their time of need.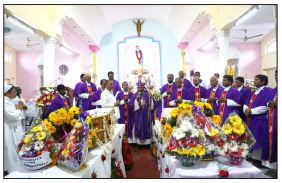 The end came so silently and she is gone leaving us all in deep sorrow. But we have the hope that the Lord who loved her so dearly in her earthly life will give her the crown of victory and allow her to see His eternal Bliss…
Our beloved Sr. Stephany was born to late Mr. Mathew and Mrs. Aleyamma on 15.01.1940. She joined the Society of the Sisters of St. Ann in the year 1959. She made her First Profession in 1964 and her Perpetual Profession in 1969. She was a nurse by profession and worked in St. Ann's hospital, Vijayawada for 4 years. Afterwards she was sent to our Mother house, Luzern, Switzerland. She worked there for 40 years with commitment and dedication, and with love and concern. The Sisters, doctors, co-workers and patients loved her immensely. She was very cheerful, kind, humble and ready to help anyone in need.
She used to spend hours on end in front of the Blessed Sacrament and recite rosary, praying for the entire world. After coming back from Switzerland in the year 2011 she was doing pastoral care in St. Ann's hospital, VJA. Subsequently she developed motor neurone disease which progressed and almost crippled her. Inspite of her crippling disease she was always joyful and was grateful to God and to the congregation for whatever is done to her. Never a word of complaint escaped from her lips. She believed that God has given her this disease for her sanctification. For us it was clear that her health was deteriorating but she was still filled with cheerful enthusiasm. During the past one month she was on ventilator care. She finished her race and the Lord called her to Himself…
Deep sentiments of gratitude and indebtedness to Most Rev. Thelagathoti Joseph Raja Rao S.M.M., the Bishop of Vijayawada diocese, for being the main celebrant of the Holy Eucharist on 26- 01-2020 and for praying for the souls of our Sisters. Our thanks to Rev. Fr. Joji Babu, Chancellor and procurator of the diocese for enriching us with his thought provoking and meaningful homily and to Rev. Fr. Eleti William Jayaraj, the rector and parish priest of GundalaMatha Shrine and the Assistant Priests for helping us with the arrangements of the Funeral of our dear Sisters. We extend our sincere thanks to all the Concelebrants, Sisters and all others who shared our grief and prayed for our Sr.Stephany and Sr. Elsy Ann. May their souls rest in Peace.