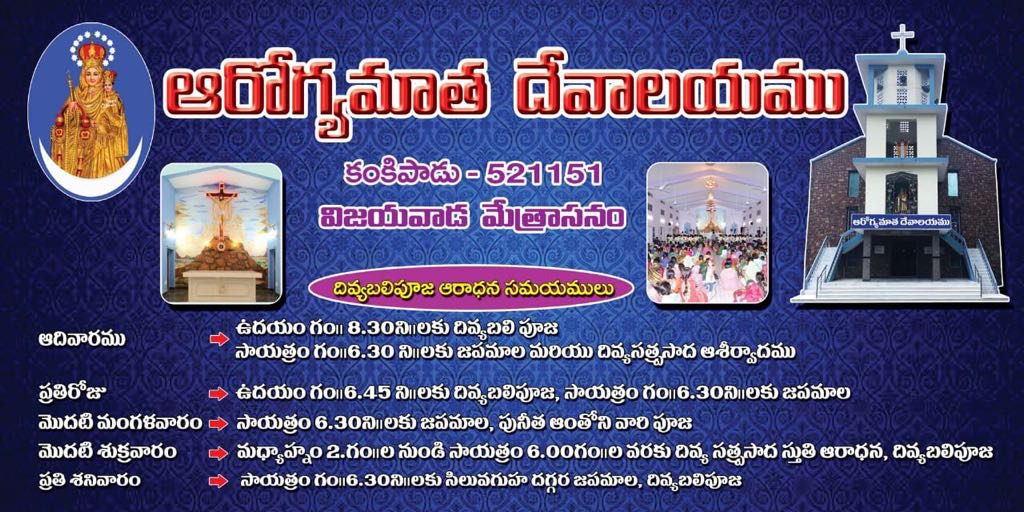 Patron : Arogya Matha
Parish Priest : Rev. Fr. Nakka David Raju
Asst. Parish Priest: Fr. Naresh
Address : Parish Priest
Catholic Church
Kankipadu
Krishna Dt. – 521 151
Telephone No : (0866) 2832398
Catholics : 3076
Chapels : 10
Prayer huts : 01
Catechists : 09
Substations : 11
Schools : 04
Teachers : 07
Institutions:
➢ Sisters of Destitute Convent
➢ Arogya Matha Hospital
➢ St. Mary's English Medium School
➢ St. Mary's Parish Orphanage for Boys.
History:
The parish of Kankipadu was erected in september 1985 by bifurcating the parish of Uppaluru, and Fr. Meka Jesudas was appointed its first parish priest. The director of the Catholic Centre Fr. T. Marreddy, undertook to build the presbytery which was blessed in 1985. The parish Church was constructed by Fr. Meka Jesudas and was blessed by Bishop Joseph Thumma on June 11, 1988. The sisters of the Destitute founded their house in this town in 1987 and now they have a hospital and also teach in the English Medium School. In 2009, Fr. Jamesh Puppady, the present parish priest built Arogyamatha Grotto and 14 Stations of the Cross and was blessed by Most Rev. Prakash Mallavarapu.
Substations: 11
Boddapadu (1951), Davuluru (1958), Godavarru (1917), Gollagudem (1918), Kankipadu Lock (1956), Kolavennu (1969), Neppalli (1965), Peda Ogirala (1970), Proddituru (1951), Chinnapulipaka, Yarlagaddavaripalem.
Former Parish Priests:
Fr. Meka Jesudas (Sep 1985 – May 1992)
Fr. Anthony Paul Peter (May 1992 – Apr 1998)
Fr. Udumala Balashoury Reddy (Apr 1998 – Aug 2004)
Fr. James Puppady (Aug 2004 – June 2011)
Fr. Thulimelli Anthony (June 2011- Oct 2016)
Fr. Nakka David Raju ( Nov 2016 –