The Holy Childhood Association of Vijayawada Diocese anticipated its celebrations to 1stFebruary 2020 at Bishop Grassi Auditorium, Gunadala. We began our celebrations when the children and animators from the schools arrived around 10.00 a.m. with welcome dance presented by the HCA children from Christ the King School, Christurajapuram and St. Joseph School, Gunadala. The diocesan director, Fr. I. M. Swaminadham, welcomed the gathering and Sr. Sailaja presented the previous year's HCA report.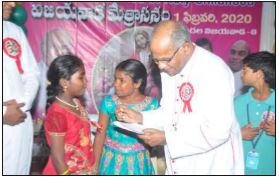 We are grateful to our beloved Bishop,Most Rev. Thelagathoti Joseph Raja Rao, for his encouraging words and advice to the children on how to be role models andto take the responsibility of studying seriously.We express thanks to Fr. John Raju, the Regional Director of Pontifical Mission Societies, who appreciated the HCA children for their generous acts in public which he himself witnessed. He also appreciated Animators for their committed and dedicated service, recalling its humble beginning with 426 children to about 6000 children at present with the help of St. Peter Claver Sisters.
We have conducted Bible quiz competition for our little missionaries. Together with animators it was planned to havethe BibleQuiz competitions for our little ones based on the theme book that was prepared with the parables in the Gospels of Mathew and Luke. Hence, we conducted Bible quiz competitions for the 4th&5thclasses & for the 6th& 7thclasses separately on 24thJanuary 2020.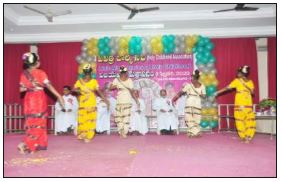 80 teams from 40 Schools participated in the Vicariate level competitions. Around 320 children took part in the contest. The winners were awarded first, second and third prizes during the HCA celebrations. The First prize winners from each vicariate participated in the Diocesan level Competitions on the day of "Holy Childhood Celebrations" in Gunadala on 1stFebruary 2020. The best Association Award-2020 were awarded to St. Francis RCM School, Machilipatnam (Telugu Medium) & Vijayarani School, Kanchikacherla (English Medium).