The meeting of Holy Childhood Animators was conducted on 9th July, 2018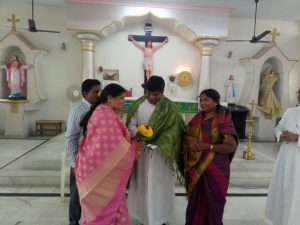 at Catholic Centre, Labbipeta. It began with prayer and the lighting of the lamp at 10.00 a.m. Fr. Matta Lazar was the resource person of the day. In his talk he spoke about the sanctity of the Children and that holiness should be sustained and protected by the animator through their animation. Animator should be effective, best communicator, creative and respectable one to guide the children. He also spoke about the responsibilities of the animators.
There were 62 animators present for the meeting representing different parishes ofthe diocese. In the meeting it was decided to conduct Bible Quiz competition for the children in the month of January, 2019. Sr. Susheela Grace SSPC who worked as the coordinator of Holy Childhood Association for four years was felicitated for her committed service. Sr. Cini SSPC was welcomed to the association as the new animator.
The Director of the Holy Childhood Association Fr. I. M. Swaminadham thanked all the animators, the Correspondents and Headmistresses of the schools and especially Fr. Matta Lazar for his inspiring words. He specially thanked Sr. Susheela Grace for her great job as the Coordinator. Sincere gratitude was conveyed to Bishop Joseph Raja Rao SMM for his support and encouragement. The programme endedwith the vote of thank delivered by Mrs. Mary Ratnam and a closing prayer by Fr. Swaminadham.
Fr. I.M.Swaminadham,
Director of Holy Childhood Association,
Vijayawada Diocese.