6th February 2019 was another milestone for the Assisi Sisters of Mary Immaculate Little Flower Province as five of our novices Anjitha Mary, Harshitha Francis, Rupeli Francis, Sislitha Mary and Sushanthi Francis made their First commitment at Assisi Karuna Bhavan, Theresanagar,
Nuzvid. His Lordship, Most Rev. Thelagathoti Joseph Raja Rao SMM,
Bishop of Vijayawada, solemnized the Holy Eucharist. Fr.M. Chinnappa, Parish Priest, Fr. P.D.Dath, Vicar Forane, together with good number of priests concelebrated the Holy Mass.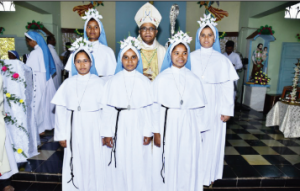 The blessed ceremony commenced with an entrance procession accompanied by a number of religious, parents and other lay associates who were present to pray and bless our novices. His Lordship Most Rev.
Thelagathoti Joseph Raja Rao SMM, Bishop of Vijayawada, enlightened the novices and the gathering with his highly inspiring sermon on consecrated life. He reiterated the significance of prayer life which is the source and strength of consecrated person. He said that prayer unites us intimately to God as well as to community to live a happy religious life. He also empha-
sized that the religious are called to be MISSIONARY with great fervor, enthusiasm and ardent zeal to witness Jesus by life and activities. He exhorted the novices to render committed, loyal and joyful services to community as well as to the church at large. He also appreciated the simple life style and  the services of Assisi Sisters in the diocese of Vijayawada. It was a delightful encouragement for all of us. At the end of ceremony,the Bishop congratulated the novices for their brave step.
Novices filled with the Holy Spirit surrendered their lives to God by pronouncing the three evangelical vows in the presence of the Bishop, priests, religious, and parents. Sr.Elsy Francis, the Provincial Superior
graced the occasion, accepted the vows  and cordially welcomed the novices to ASMI family, and to the Little Flower Province in the name of the congregation. It was a great and unforgettable day in the life of our nov-
ices as well as all of us.After the Eucharistic banquet, there was a short felicitation expressing our gratitude to His Lordship Most Rev. Thelagathoti Joseph Raja Rao SMM and to Fr. M. Chinnappa for his whole hearted services and other many generous hearts who contributed to the success of this blessed event. It was concluded by a fellowship and festive meal.
– Sr. Chaithanya Francis, Superior, Assisi
Karuna Bhavan, Theresanagar, Nuzvid