Three-day annual festival of Siluvagiri Shrine has attracted a large number of pilgrims from various places. The entire hill was decorated with attractive lights and many faithful came far and wide to pray and seek the blessings from the Holy Cross. Most. Rev. Dr. Thelagathoti. Joseph Raja Rao, SMM, the Bishop of Vijayawada, celebrated the solemn mass on 23rd February, 2020. Novena masses were celebrated by the neighbouring priests in preparation for the feast. Prayer meetings were conducted for two days by a team from Mangalagiri Dhyanashram led by Fr. Shijo VC and Fr. Sathish VC. Dr. Francis from Vijayawada shared his personal experiences about the transformation he received encountering the Holy Cross in his life.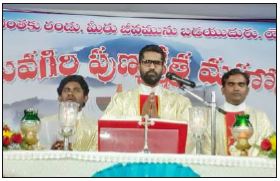 Cultural programmes were conducted for three days and artists from various parts of Andhra Pradesh exhibited their captivating performances. 'Dhanavan thudu-Beedha Lazaru' and 'Siluva dhaari' were the highlights for the feast. A special programme by Vijaya Mary Integrated School for the Disabled, Vijayawada has attracted the audience.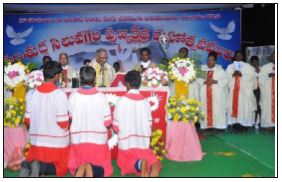 Nandigama M.L.A Sri. Mondithoka Jagan Mohan Rao, Sri. Tangirala Sowmya, Ex. M.L.A and Sri. Samineni Uday Bhanu, M.L.A, Jaggaiahpeta helped us very much for the success of the feast. Shrine committee has been very supportive in conducting the feast and making arrangements. Pilgrims who visited and partook in the celebration witnessed spiritual transformation. All the faithful who participated felt God's presence and spirit-filled moments by visiting the Holy Cross Shrine.