Social Service Center under the leadership of Fr. Thomas Pasala has taken up a project to work with the People with Disabilities  (PwD). The Project is supported by 'Collective Action for Basic Rights Foundation'
(CBRF)-Bangalore. Its main objective is to mainstream the People with Disabilities into all the programs and projects of Social Service Centre at diocese level.
"Mainstreaming is the process of assessing the implications for [disabled persons] of any planned action: including legislation, policies and programmes in all areas and at all levels. It is a strategy for making concerns and experiences an integral dimension of the design, implementation, monitoring and evaluation of policies and programmes in all political, economic and societal spheres so that [people with disabilities] benefit equally and inequality is not perpetuated. The ultimate goal is to achieve equality."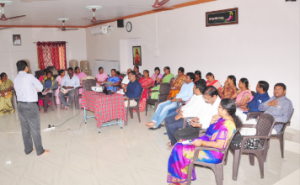 On 6th February 2019, SSC launched the Program of Mainstreaming Disability in the august presence of Msgr. Prasad Muvvala, the Vicar General of Vijayawada diocese, Mr. Venkatesha Reddy, Programme Officer
from CBRF and Mr. Srinivas, facilitator of training from CBRF, Fr.Kama Christuraju, Parish Priest of Koduru and neighbouring religious sisters and staff. 30 members consist of SSC office and field staff, PMI representatives and CBRF project staff attended three-day residential training  on Disability mainstreaming at SSC Animation Centre from 6th to 8th Feb,2019. The Training consisted on historical perspective of Disability; how the physical or mental impairment was treated down the ages, meaning and necessity for mainstreaming the Disability, different programmes and schemes available to disabled persons from the part of state and Central Government. And also training has took us through the RPD ACT 2016. (THE RIGHTS OF PERSONS WITH DISABILITIES ACT 2016)
Some Points to learn about mainstreaming Disability:
1. Person with a disability is a person first and then has disability as well.
2. Persons with disabilities are not a homogenous group – every person is unique.
3. Persons with disabilities have abilities as well as disabilities.
4. Persons with disabilities may do a few things differently but have the similar needs as everybody else.
5. Some have special needs that require assistance – special equipment, a
caregiver, etc.
6. Disability is not just an individual issue but a social and rights issue.
7. Including persons with disabilities in development and Disaster Risk Reduction ensures that persons with disabilities get an opportunity to minimize the impact of disaster and live a productive and meaningful life that in turn enriches the community.
8. Starting this process begins by approaching a person with disability with respect and a willingness to listen and learn; this is the most important thing we can do when working with persons with disability.
• BARRIER FREE ACCESS to People with impairments: Impairment is the
problem that causes Disability; but the impairment can be adjusted or adapted with the support and the commitment of family, community and Government by non-discrimination.
• Non-discrimination in transport: Adapt rail compartments, buses, vessels and aircrafts in such a way as to permit easy access; adapt toilets in rail compartments, vessels, aircrafts and waiting rooms in such a way as to permit wheel chair users to use them conveniently.
• Non-discrimination on the road: Installation of auditory signals at red lights; causing curb cuts and slopes;engraving on the surface of the zebra crossing; engraving on the edges of railway platforms
• Non-discrimination in the built environment: Ramps in public building; places of worship; adaptation of toilets for wheel chair users; braille symbols and auditory signals in elevators or lifts; ramps in hospitals, primary health centers and other medical care and rehabilitation institutions.
– Fr. Thomas Pasala, Executive Director,
Social Service Centre, Gunadala