Bro. Joseph Thamby Shrine – Avutapally
Shrine of Br. Joseph Thamby, Servant of God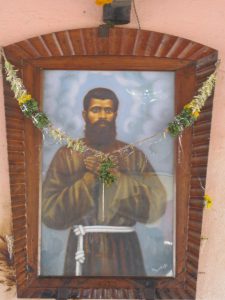 Br. Joseph Thamby was born in the year 1883 to Annamalle and Savarimuthu in Pondicherry. Fascinated by the ideal life of St. Francis of Assisi, he joined the Third Order of St. Francis of Assisi. In 1936, he preached the word of God to the Tribes of Pachamalai in Tamilnadu. In the same year he helped at Manathidal Parish in the diocese of Kumbakonam. For the first time in 1937, he stepped into Andhra Pradesh at Bitragunta in Nellore District. Later, he reached the then parish Kesarapally. At the request of the parish priest Rev. Fr. John B. Calderaro, he settled down in the Peddavutapally. He proclaimed the Message of God's love and performed many miracles in the surrounding villages like Vatluru, Manikonda, Thelaprolu, Kesarpally, Uppulur…etc. As he had foretold, he died on the 15th of January 1945 at the house of Boyapati Francis and Claramma and was buried here. Since then, many people who pray at his tomb receive God's Favors and blessings through the intercessions of Br. Joseph Thamby.
Thousands of devotees come from far and near to Thamby's tomb at Pedavutapally to venerate him, to reflect on his life, to thank and praise him, and to pour out their woes and difficulties to him. This constant flow of devotes to his tomb obviously implies the presence of a great and benevolent power, which is clearly perceived by simple and confident devotees as something heavenly.
Pilgrims come this grave throughout the year irrespective of caste and creed especially on the celebration of Thamby's death anniversary and its eve, on the 13, 14 and 15 January. They come to pray for his help. Manifold petitions are made before Br. Joseph Thamby; to be healed from sicknesses, to get an employment, for recovery of lost person and articles, to get children after several years of married life without issues, to be secure from financial crisis and unjust exploitation and so on. Many of the pilgrims are free from worry and haste and spend two or three days at his shrine quite peacefully. They are confident that Br. Joseph Thamby will certainly bless them.