19th February, 2019 became a memorable day for the faithful of Mandapakala village of Koduru Parish. The newly built St. Joseph's Church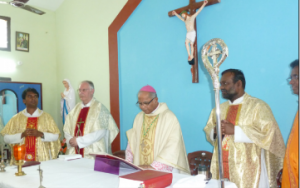 was blessed and inaugurated by his Excellency Most Rev. Dr. Thelagathoti Joseph Raja Rao SMM, Bishop of Vijayawada. Ever since 1942 when the seed of Catholic faith was sown by the Italian PIME Missionaries, numerous attempts were made to build a chapel for the local community. Among variousreasons, which delayed the construction was the cyclone that hit Diviseema in 1977 taking more than 230 lives of Catholics from this village alone. After the cyclone, school and cyclone rehabilitation centre were used for the celebration of the Eucharist and the sacraments. Seeing the dire need of a chapel at the village, the Diocese of Vijayawada took up the construction of the chapel and the foundation stone was laid on 22nd September, 2018 by Rev. Fr. Guzzula Michael, DGM and Vicar Forane of Machilipatnam vicariate. The inauguration and blessing of the chapel were preceded by a procession with the holy statues and confessions on 18th February. His Excellency in his homily reminded the people that visiting the newly built Church as often as possible and taking care of it is the primary responsibility of the community. He appreciated the efforts of the parish priest, in constructing the church. The occasion was graced by Rev. Fr. Jan Tilleman, Belgium who adopted the Parish and constantly helping the mission at Koduru both in education of the poor children and the construction works for the last decade with the generous contribution of the parishioners of Brugge, Belgium.
Msgr. Muvvala Prasad, Fr. Guzzula Michael, Fr. Pasala Thomas and many other priests participated in this blessing. The fellowship meal marked the joy of the celebration after the Holy Eucharist.
– Fr. Kama Christu Raju, Parish Priest, Koduru