The Catholic community of Seepudi had a great day of celebration on 20th March, 2019. This community received the Catholic faith in the year 2015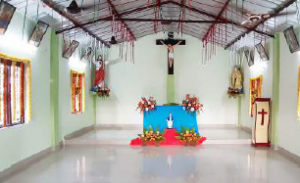 with the initiation of the former parish priest. Fr. I.M. Swaminadham, the Director and parish priest of Labbipeta. Now the village has 25 Catholic families. The people have expressed their willingness to persevere in Catholic faith and made many requests for a new chapel. The continuous blessing of Our Lord and the people's prayer helped to construct the new chapel in honour of Our Lady of the Holy Rosary. On the previous day, there was a solemn procession of the statue of Our Lady of Rosary and thereby a meaningful prayer service in the village.
The chapel was blessed and inaugurated by Msgr. Muvvala Prasad, the Vicar General & parish priest of St. Peter's Co-Cathedral along with the other priests on 20thMarch, 2019. He presided over the Eucharistic celebration after the inaugural ceremony. He instructed the faithful saying that the chapel should become the instrument of God experience in their lives. Fr. Eleti William Jaya Raju, Parish Priest and Rector of Gundalamatha Shrine, Fr. Guzzula Michael, DGM and Vicar Forane of Machilipatnam, Fr. Damala Vijay Kumar, Director, St. Joseph's Pastoral Centre, Fr. Bantumili Yohan, Parish Priest of Goodmanpeta, Fr. Nagothu Showri Kishore SJ, Parish Priest of Gudlavalleru and the other priests and Nirmala Sisters have graced the occasion and increased the joy of the local community. The fellowship meal was served to all the people after the Holy Eucharist as a symbol of joy and love.
-Fr. Ganta Praveen, Vicar Forane &Parish Priest, Gudivada