November 29, 2018 became a red-lettered day to the faithful of YSR colony,
Gunadala parish. The long-cherished dream came true on the auspicious day with the blessing and inauguration of the beautiful "Holy Spirit Chapel". His Excellency Most Rev. Thelagathoti Joseph Raja Rao S.M.M., the Bishop of Vijayawada inaugurated and blessed the new the chapel and presided over the Eucharistic celebration.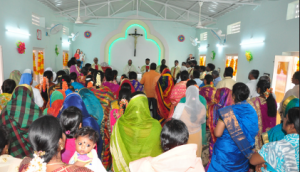 His Excellency emphasized that the Church is a place of God's dwelling, a place filled with sacredness, a place of worship and a source of graces. Earlier, the old chapelwhich was located in the Christian Peta, was demolished during the road extension process. The then in-charge parish
priest Rev. Fr. Muvvala Prasad, stood with the people and started prayer service at the YSR colony with the statue of our Mother Mary.There are 45 families in the YSR colony substation. The people earnestly prayed for the new chapel at YSR colony. For two years, liturgies were conducted in a small hut until the blessing today of the new chapel. People expressed
their gratitude to Monsignor Muvvala Prasad for his encouragement and motivation in making their dream come true.
The event was concluded with the felicitation of the Bishop and the Vicar General.
 – Fr. Eleti William Jaya Raju, Rector and
Parish Priest, Gunadala Matha Shrine