"My house shall be called a house of prayer" Mt. 21:13.
1st of March 2019 was a great day to be emembered for the faithful of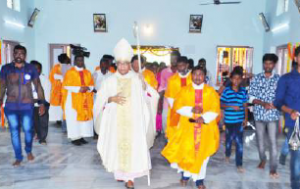 Pinapaka village a substation of Kondapalli parish. They were filled with joy when the new chapel built in honour of St. Joseph was dedicated on that day. On that auspicious day, His Lordship, Most Rev. Thelagathoti Joseph Raja Rao S.M.M., Bishop of Vijayawada, blessed and inaugurated the new chapel at Pinapaka. Bishop in his homily exhorted the people that church is nothing but people living together as in the days of early Christian community.
His Excellency appreciated and thanked all the priests who worked hard in building the chapel from the time of laying of the foundation stone till its completion. He also thanked the parish priest, Fr. Joseph Thamby, and Fr. Mathew CPPS, the assistant parish priest and all the elders of the church who made the day so grand. His Excellency was felicitated by the faithful of the parish and the celebration ended with a fellowship meal.
–  Fr. Joseph Thamby CPPS, Parish Priest, Kondapalli