PASTOR SPEAKS – NOVEMBER 2017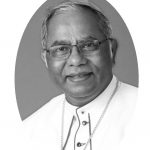 Dear Brothers and Sisters,
The month of October has passed very peacefully with many pastoral programmes all over the diocese. I have received good reports from the people in appreciation of the Marian programmes conducted during the month. Congratulations to all the Fathers and their collaborators. I'd like to thank all the priests for attending the Clergy Retreat held at Bishop's House from 9th to 13th October. The atmosphere of prayerful silence was kept and every one was edified by this cooperation. I request the Junior Clergy to come in great strength and enthusiasm for the retreat planned for them from the 13th to 17th of this month.
 + Thelagathoti J. Raja Rao, S.M.M., 
Bishop of Vijayawada