PASTOR SPEAKS – January 2019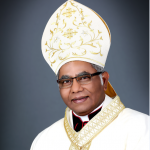 NEWNESS
Dear Brothers and Sisters,
As we are stepping into the New Year 2019 my wish is that we all enter into it together as the local Church, as a pilgrim people, with Jesus, our Immanuel, the Wonderful Counsellor, Everlasting Father and the Prince of Peace. I have received reports that most of our Churches have experienced a wave of new faces at Christmas midnight Mass. They may be the 'Christha Bhakthas', who believe in Jesus but do not wish to be baptized for various reasons. I wish all of you manifold Blessings of the Lord all through this New Year and may we all walk together addressing the issues as part of our common concern in building our
local Church.
God willed to reveal Himself in time and save us in history. Both John (1 John 2:18, "Children, it is the last hour") and Paul (Gal 4;4,"fullness of time) speak to us of time. 'Today'manifests to us how time was "touched" by Christ, the Son of God and of Mary, and received from Him new and surprising meanings: it
became the "salvific time," namely, the definitive time of salvation and grace. While it is so consoling to perceive it as 'salvific time', we still must realize that we do not have a lot of it, hence, we must invest it only on those matters that count most and avoid procrastination. Prophet Micah gives us an agenda to begin this New Year: "To act justly, to love tenderly and walk humbly before our God" (Micah 6: 8).
New Year will be new, If we have forgiven and asked for forgiveness. New Year will be new, If we have thanked all those who helped us, no matter how small that was. New Year will be new, If we see failures as lessons and successes as 'utilised opportunities.' Wish you good health, peace and success in this New Year 2019.
Wishing every one the blessings of the Infant Jesus and that of the Holy Family and the Maternal care of Mary our Mother,

+ Thelagathoti J. Raja Rao, S.M.M.
Bishop of Vijayawada