PASTOR SPEAKS – AUGUST 2018
LET US STAY TOGETHER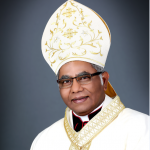 Dear Brothers and Sisters,
Forgive us Lord, for we have sinned…
We have been hearing about so many strange and painful stories during these days rocking the Catholic Church in our Mother Land. I request your 'prayers' and 'attention' to such issues. We need to carry on our duties as priests, religious and lay people doing what is most pleasing to God and doing what is according to our calling and mission. We are obliged to act according to the dictates of our conscience and choose God's ways than the ways of the world. One thing that Jesus hated most was the hypocrisy of the Pharisees. Hypocrisy for Jesus was, something that was "not practiced but only preached." In an organization, even one person among a hundred or a thousand fails, the entire body will have to take the blame. This is what exactly happening throughout the world in Churches but the larger society does not agree with it for they hold it is only the tip of the iceberg.
Press statements, like 'hypocritical Church' though painful to hear, calls for reflection, and question ourselves to what extent we are responsible and what should we do about it immediately at the level of our local Church? I think it is an awakening, an eye-opener, a warning, a whistleblowing to the entire Church to rise and follow seriously its call to holiness, since it appears that many have gone far away from such basic teachings of the Gospel and the exhortations of the Popes. A basic minimum is expected from the Church personnel, that is, "to be truthful and transparent" in everything they do. We do not have to be afraid or subservient to anyone, if we are following our conscience and doing our duty truthfully to our community.
The present situation demands that we should accept our failures and be ready to lay down our egoism, self-seeking, self-gratification and our temptation to dominate and rule over all. Jesus, our Master may be weeping looking at his Church, just as he wept over Jerusalem (Luke. 19, 42). The prophets lamented that Israel never cared to listen to hear God's word and committed abominable sins against the poor while they lived in prosperity (Jer. 5, 3; Ezek 3, 7-9; Amos 3-6). The Church cannot afford to neglect her Master's voice, and it cannot neglect the poor, the women and the children. There have been shepherds who helped themselves without feeding the sheep as per the available modern data. We are hearing heart breaking stories, the helpless cries of so many, and alas we cannot imagine they were done in our compounds, churches and institutions. We need once again to question the basic lack of fear of God and make penance for the misdeeds in the Church, especially in the local Church. There are also those who take advantage of these incidents, sometimes our own faithful launch a mordant and disparaging criticism without doing anything positive to help this Church to grow and mature.
I am fully aware of the presence of such people even in our local Church. I, therefore, ask all the parish Priests, Religious to set aside one day of fasting and prayer in all the Churches as the mark of our readiness to repent and make amends for those things that may have gone wrong. Please fix a day according to the convenience of the people in your parish and observe it without letting down my appeal. Please ask people to make their confession on this day. We are ridiculed because the Holy Sacrament of Confession is discussed by the secular press and the Governmental bodies and they want to dictate what we should do in the Church, because we gave them an occasion to do so. Let the people of God, who are also called in the Scriptures 'priestly people, holy people' become aware of their calling and build our cracking Church and let it not fall. I call upon everyone to apply their conscience, prayer, the principle of subsidiarity, transparency and accountability in every aspect of the life of our Church. Many Christian sects, freechurches are stealing our sheep because they also have found the opportunity to do so. So I request your prayers and day of amends for our Church.

+ Thelagathoti J. Raja Rao, S.M.M.
Bishop of Vijayawada