PASTOR SPEAKS – NOVEMBER 2018
TIME TO COMMEMORATE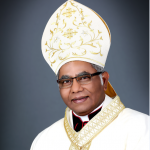 Dear Brothers and Sisters,
The month of November reminds us that we are at the end of the Liturgical Year and there is also a commemoration of all Saints and those of all the departed souls. The Church invites us to remember all the canonized saints and also to live our call to holiness. While the commemoration of all the departed reminds us of our relatives and friends who have passed to the further shore and we renew our relationship with them by way of praying for them.
Christianity is the religion of the conquest of death. Christ came to change death from an enemy to a friend, from a hole to a door, from a juggernaut to the golden chariot sent by the king. The Christian can stick his tongue out at death and give it a Bronx cheer, like St. Paul: "Oh death where is your sting? O grave, where is your victory" (1 Cor. 15: 55-57). The sting of death is sin, and death is now a stingless bee, for its stinger has lodged in the body of Christ on the Cross. Death is separation—from body, from friends, from world. But Christ has made it the opposite: meeting.
The unique message of Christianity about death is like the sudden happy ending of a fairy tale: a grace, a joy, a "good catastrophe". A Christian does not have the highminded resignation of the stoic or the lowminded peace-of-mind mongering of the secular psychologists because he has faced the honest despair of the pagan and answered it with the fact of the Resurrection. Death changed its meaning two thousand years ago, when the emptiness that had reigned since Adam was shattered by the Big Bang of a new Kingdom on the first Easter morning. The recently canonized saint Oscar Romero said: "I have frequently been threatened with death. I ought to say that, as a Christian, I do not believe in death without resurrection. If they kill me, I will rise again in the people of El Salvador."
I had the grace of being present at the Canonization of Paul VI, Archbishop Oscar Romero and five others, on the 14th October 2018, in Rome. I also had a very successful visit to some 12 Bishops in U.S.A. Thanks to the efforts of my friends in U.S.A. who love our people and have arranged interviews with Curia officials of many Dioceses. I was delighted to note how well all of you have passed the month of October in the strict observance of Marian Devotion. I have seen the pictures on the FB and other social media. Thanks for all these efforts. Wishing everyone many God's blessings and requesting your prayers for our Diocese and for the success of its apostolic activities,
Yours sincerely,

+ Thelagathoti J. Raja Rao, S.M.M.
Bishop of Vijayawada