PASTOR SPEAKS – MARCH 2019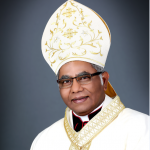 HAVE A FRUITFUL LENT
Dear Brothers and Sisters,
I wish to thank you for your active collaboration for the feast of GunadalaMatha this year. Like every year, even this year the number of pilgrims have gone up and it was very delightful to see them on the last three days. Praised be Jesus living in Mary. Shrines are a means of evangelization and we have tried within our possibilities both to preach the Word of God, and to offer the Sacrament of Reconciliation and cared for
the poor. We do hope to continue with the developmental works of our Shrine. Please keep this intention in your prayers. I have initiated my Pastoral visits to the Parishes and I will be informing you before hand so that the people can have the opportunity to meet me personally and express their ideas with regard to "life in the parish" and I will also have an opportunity to inter- act with them. I request everyone to keep all the records in order including the Mass Diary.
As the season of Lent is fast approaching, I am also sending you a copy of my Pastoral Letter translated into Telugu which may be read in all the parishes on the 2nd Sunday of Lent. I have spoken to you at length during the Monthly Recollection General Body Meeting giving you certain recommendations with regard to Lenten practices. I request all of you to pay attention to them and help our people in their path of conversion to the message of the Gospel. We need to bring the message of God's love to our people. "We all need more love than we deserve" said a German Philosopher JorgSplett. This is so true. When this greatest need is fulfilled we will all be alright. Lent is not so much only a penitential time but also to know the immensity of God's love for us, and how it transforms itself into mercy and forgiveness.
I wish all of you a fruitful Lenten journey.
Yours sincerely,

+ Thelagathoti J. Raja Rao, S.M.M.
Bishop of Vijayawada