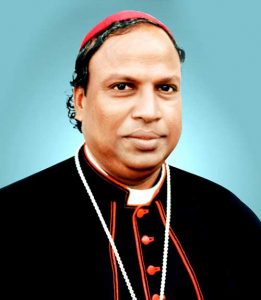 BISHOP MARAMPUDI JOJI was born in Bhimavaram of West Godavari district on 7th October, 1942. After his high school studies, Bishop Joji joined St. Ambrose Minor Seminary, Nuzvid. He had his Theological studies at St. John's Seminary, Hyderabad. He was ordained priest in q971 at Gunadala on 14 December, 1971, by Bishop Joseph Thumma. He was one of the first batch of local Telugu Priests of the Diocese of Vijayawada.
Bishop Joji has a fairly wide knowledge o men and matters, having travelled in different continents. He rendered two decades of his priestly services in the Diocese of Vijayawada, as parish Priest, Secretary to the Bishop, Economer, Chancellor and the Director of the Social Service Centre, Vijayawada. He holds many diplomas secular and ecclesiastical. He held in the past many respectable and responsible offices, ecclesiastical and secular. He was also a member of the National Planning Commission, New Delhi. He maintains very good relations with the political leaders and civil authorities in the state as well as at National level.
In 1992, the Roman Pontiff appointed him the Bishop of Khammam and he was consecrated Bishop in Gunadala by Archbishop George Zur, Apostolic Nuncio, on 19th March, 1992. Bishop Joji worked for four and a half years in the Diocese of Khammam.
On 18th December, 1996, Pope John Paul II has appointed him Bishop of Vijayawada. He took charge of the Diocese of Vijayawada on 19th January, 1997. He is the fourth Bishop of Vijayawada, succeeding Bishop Joseph Thumma. His appointment to the Diocese of Vijayawada has begun a new era in the history of the Diocese of Vijayawada. He has right from the beginning set new thrusts for the activity and apostolates of the Diocese. Faithful to the visions of the former Prelates, he has ably been leading the diocese into the third millennium. On 17th March 2000 he was transferred from Vijayawada and appointed the Archbishop of Hyderabad.
The mission of Vijayawada that has taken birth from the Hyderabad Mission is able now to offer to the mother mission, its own child, Priest and Bishop. The PIME that baptized and brought up Archbishop Joji sees in him and in his appointment to the mother mission of Hyderabad a great fulfillment of his dreams.