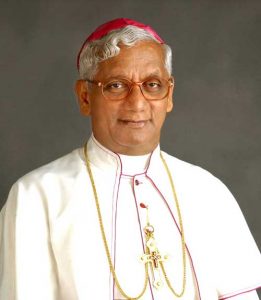 Bishop Prakash Mallavarapu was born in Jadi Jamalpur of Nizamabad district on 29th January 1949. The pious couple late Anthaiah and Annamma was his parents. He had his schooling at Jadi Jamalpur in St. Peter's High School (now amalgamated in All Saints High School) Gunfoundry, Hyderabad and completed S.S.C in April 1969.After completion of his pre-degree studies in Andhra Loyola College (1969-71) Vijayawada, Bishop Prakash joined St. Peter's Minor Seminary, Cuddapah (1971-72). He had his Philosophical and Theological studies at Papal seminary, Pune (1972-79). At an early stage he obtained masters degree, M.Ph in Philosophy (1974-76) and was ordained a priest on 11th October 1979. Being a man of genius and caliber, he has obtained a doctorate in Indian Philosophy from Jnana Deep Vidyapeet, Pune (1981-88) and masters Degree in Theology from Loyola University of Chicago (1989-1990), USA. His deep thinking and scholarly outlook is always coupled with compassion for the marginalized and the less fortunate of the society.
He was the financial administrator of the Arch-diocese of Hyderabad (1986-88). His profound spirituality, convinced convictions and an ideal life-style made him the Rector of St. John's Regional Seminary, Hyderabad (1991-97). Later he rendered his services as the parish priest of Gaddiannaram (1997-98). His passionate commitment for the mission, ardent zeal in realizing the reign of God and an outstanding life style paved way for his Episcopal Ordination as the Bishop of Cuddapah on 22nd July 1998. Bishop Prakash worked 4 years in the diocese of Cuddapah.
In 2002, he was appointed as the bishop of Vijayawada by the then Pope John Paul II and was installed by Arch-bishop Kagithapu Mariadas on 15th August, 2002. Being a person of values, perseverance and hard work, he holds various ecclesiastical offices: He is the Chairman of the Commission for Clergy and Religious; the Secretary General of CCBI (Mar 2004 & January 2007) and has was re-elected for second term (Feb. 2009); He is the Chairman of APSSS. His austere and frugal life is always aimed at helping the poorest of the poor students and giving incentives to the students for higher education. His gentleness, human concern and genuine relationship with the clergy and the faithful and all the people of God are well appreciated.