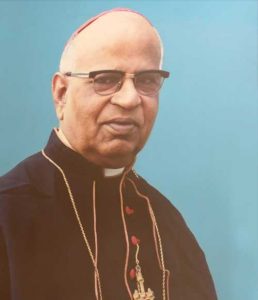 BISHOP JOSEPH THUMMA was born in Thatchoor Village of Tamilnadu State on December 19, 1918. He had his primary education in hi village and college education at Pondicherry. Late he joined St. Agnes Minor Seminary at Pontifical Athenaeum Urbanianum de Propaganda Fide, Rome December 21, 1952. As principal of a school, rector of the seminary and vicar general of the diocese of Pondicherry he rendered yeoman service. He was elected as the Coadjutor Bishop of Vijayawada on January 02, 1970 and was consecrated Bishop on May 07, 1970. He took charge of the diocese, as successor of Bishop Ambrose De Battista, on January 31, 1971.
His 27 years of Episcopate is memorable in the annals of the Diocese. He has fed the diocese with his graciousness, kindness and patience in order to shape the diocese in the present state. The number of educational institutions, starting from primary schools to the University Colleges, is his remarkable contribution in the field of education. At the regional level he was Chairman of Jyothirmai, Education and SC, ST, BC of the CBCI for two terms and at the International level he was a delegate to the Synod at Rome. Bishop Joseph Thumma's Episcopate is called "The Golden Age" of the Diocese.
He retired from his episcopate on December 18, 1996 at the age of 79. He died on August 18, 1997 of cardiac arrest and his mortal remains were laid to rest at Gunadala Cemetery on August 20, 1997.