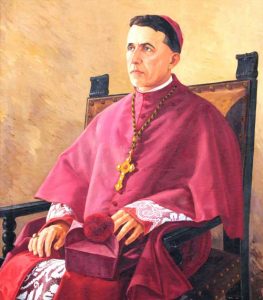 The first Bishop of Vijayawada was born on August 08, 1887, in Milan, Italy. He joined the PIME and at the age of 24. He worked in several places like Mattampally, Nalgonda Diocese, Nandigama, Eluru, Singaram and as the Rector of the Seminary at Hyderabad. In 1927 he was held high in esteem by his confreres who admired in him his talent, zeal and gentleness.
By the decree of Propaganda Fide, dated November 11, 1933, he was appointed "Ecclesiastical Superior" of the newly erected Missio Sui Juris of Bezwada. When the independent mission became a Diocese on 13th April, 1937, he continued his work as Apostolic Administrator till he was nominated as the first Bishop of Vijayawada on December 03, 1938. He was consecrated in Milan on May 01, 1939. Msgr. Grassi was known as the "Gentlemen Bishop". His innate sense of self control, prudence and kindness made him almost an exception among his confreres. A man of apostolic Zeal, he organized and intensified the conversion movement in the Diocese. During his Episcopate the number of Catholics almost tripled. In spite of the odds and restrictions imposed by the World War II. When several fathers were sent to the concentration camp, Msgr. Grassi did everything gently, almost diplomatically and silently.
Msgr. Grassi died on May 09, 1951 in the PIME Mother House in Milan, Italy. His mortal remains are laid to rest at Lecco. In 1998, his mortal remains were shifted to Gunadala Diocesan Cemetery from Italy by Bishop Marampudi Joji.