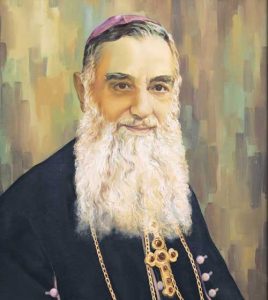 BISHOP AMBROSE DE BATTISTA was born on 22 May, 1905 at Mandello, Italy. The eldest of eight children, he entered his diocesan seminary at the age of 12. He joined the PIME after three years of ministry in his diocese of Como. He arrived in India on April 24, 1932. He worked as Zealous missionary in Munugodu (Nalgonda Diocese), Nandigama, 21 Eluru, Chinthalapudi and Gunadala. He was 46 years old when he was nominated as the second Bishop of Vijayawada on December 13, 1951. A priest since 23 years, he was consecrated in his home village on March 19, 1952 and was solemnly welcomed into the diocese on August 14, 1952.
Bishop Battista was called "The Builder of Vijayawada Diocese"/ in his twenty years of episcopate he founded several institutions. Some of the outstanding institutions are: The Andhra Loyola College and Maris Stella College at Vijayawada; St. Theresa's College, St. Xavier Institutions and Damian Leprosy Centre at Eluru; Hospitals at Gudivada, Bhimavaram, Bhimadole, Patimapuram, Jangareddygudem, Jaggayyapeta, Kondapalli, Tiruvuru, Amalapuram, Mogalturu, Kalidindi Etc., Krishna, East and West Godavari Districts. His best achievement was the starting of St. Ambrose Minor Seminary at Nuzvid to foster the local vocations.
Bishop Battista died on December 15, 1971 and his mortal remains were laid to rest at Gunadala Cemetery.