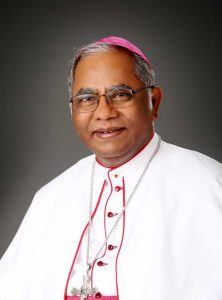 Bishop Joseph Raja Rao Thelegathoti, SMM was born on 8 th March 1952 in Peddautapally, in the Diocese of Vijayawada. After studying BA at the Andhra Loyola College in Vijayawada, he joined the Minor Seminary of St. Ambrose, Nuzvid. He then studied philosophy at St. Peter's Papal Seminary in Bangalore, as a novice of the Society of Mary – Montfort Missionaries (SMM), and theology at the Pontifical Gregorian University in Rome. Later, he obtained a licentiate in Biblical Theology at Dharmaram Vidya Kshetram, Bangalore, and a doctorate in Spiritual Theology at the Pontifical Gregorian University in Rome. He made his solemn profession in the Society of Mary of the PP. Montfort on 31 January 1980. He was ordained priest on 7 June 1980.
After ordination he held the following positions:
1980-1984: Rector of the Minor Seminary of the Community Montfort Mysore;
1984-1990: Rector of Theology Monfortano in Bangalore;
1984-1990: Provincial Councillor;
1990-1997: Provincial Superior;
1993-1997: Vice-President of the Conference of Religious of India (CRI);
1997-2004: New Foundation of Hospitaler of Mercy, in Rome;
2001-2004: Studies in Rome;
2004-2008: Director of Anugraha, Institute for poor children;
2006-2011: Director of Monfortian Marian Centre, Bangalore;
2008-2011: Provincial Council and Rector of Theology Monfortano Maria Bhavan, Bangalore;
2011-2015: Attorney General and Postulator of the Congregation of the PP. Montfort, in Rome.
2015: Provincial of the Montfort Missionaries in Bangalore.
Pope Francis appointed Rev. Fr. Joseph Raja as Bishop of the diocese of Vijayawada
The Consecration of Bishop Joseph Rajarao Thelagathoti SMM was on On 2nd February 2016
COAT OF ARMS
The Episcopal Coat of Arms of Most Rev. Thelagathoti Joseph Raja Rao Bishop of Vijayawada, India 
The Coat of Arms is composed of a shield with its charges (symbols), a motto scroll and the external ornamentation.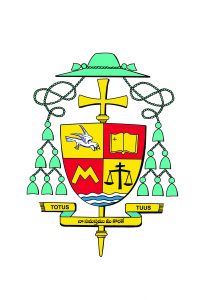 On the main shield there are four images: The book of the Gospels which all are called to proclaim under the guidance of the Bishop. It brings change of hearts. The waters signify the Baptismal water where we are cleansed and it also signifies for the people of Vijayawada the Krishna River that makes our land fertile and brings forth fruit; The symbol of dove is the descending of the Holy Spirit upon all the believers born of water and making us the people of the Spirit and. The letter 'M' signifies Mary and the Gunadala Marymatha, the one who accompanies us in our life of faith and finally The 'Balance' signifies 'justice' the end product of the Gospel to all the people of our city and diocese. The motto scroll in Latin Totus Tuus, "I am completely yours" applies to Bishop's total dedication to God and total dedication to his people. The Cross signifies the presence of Christ, a blessing for all the people. Whoever looks at it will be freed from evil forces.