The feast of Siluvagattu was solemnly celebrated on 28th February, 2019.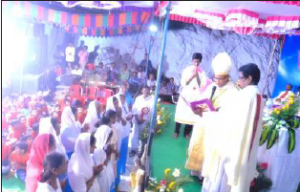 This year's festival became more significant as it was celebrated for the first time after its erection as a Parish on 8th May, 2018 after bifurcating it from Nehrupeta parish with Amruthnagar, Regunta and Ramannagudem as its substations. The parishioners were joyful to organize the celebration. The faithful from the parishes of Nehrupeta, Nuzvid-Town and Thukkuluru were one with the parishioners of Siluvagattu to make it more magnificent.
The annual feast of Adbhutha Siluvagatta was initiated with Novena Masses and prayers which were organized from 17th- 25th February, 2019. The priests of the diocese and the Vicariate celebrated the Novena Masses. The religious sisters of the neighbouring parishes, Sisters of St. Anne, Phirangipuram, Nuzvid town Parish, Holy Spirit Sisters of Nehrupeta parish, Dina Sevasabha Sisters of Thukkuluru parish, Assisi Sisters of Siluvagattu parish, the seminarians of St. Paul's Regional Seminary and St. Ambrose Minor Seminary, and the hostel children of Angel Boarding, St. Thomas Boarding and St. Ann's Hostel were helpful in all sorts during the festival days.
The three-day celebration started on 26th February after the Novena Masses. The Vicars General, Msgr. Mesapam Gabriel and Msgr. Muvvala Prasad celebrated the  Holy Masses on 26th and 27th February, 2019 respectively. On the third day, 28th February, 2019, His Excellency, Most Rev.Thelagathoti Joseph Raja Rao SMM, presided over the Solemn Eucharistic celebration in the evening. The priests, religious and the faithful participated in large numbers. His Excellency spoke about the real veneration of the cross and explained how  Christians can overcome the hurdles of life looking at the Cross. His Lordship conferred the Sacrament of Confirmation and given the First Holy Communion to the children and the adults too. The catechists and the faithful felicitated the Bishop. The parish priest expressed his sincere thanks to the Bishop for his solemn presence and for giving consent to go ahead with construction works for the development of the upcoming Shrine of Adbhutha Siluvagattu.
Fr. Merugumala Chinnappa, Parish Priest,
Siluvagattu