On Friday, 22ndFebruary,2019 we celebrated he eighth annual day of St. Joseph's English Medium High School, Jagannadhapuram. The celebration started with the welcoming of the President of the Day, His Excellency Most Rev. Joseph Raja Rao SMM, Bishop of Vijayawada, special guests, Mr. P.Babu Rao, Joint Collector-II, Fr. Neeluri Mariadas, the parish priest, Mrs. Esther, the parents' representative by the school band, escorted by the flower girls and the principal, teachers and the students.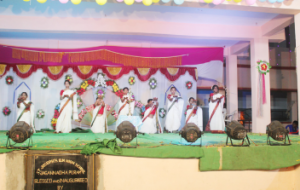 The programme began with the blessing of the dais by the Bishop. It was followed by the prayer dance and welcome dance which mesmerized the audience. All the dignitaries were invited on to the dais and were welcomed with respect. Then the school annual report was read out.
The president, Most Rev. Thelagathoti Joseph Raja Rao SMM delivered a motivational speech. He exhorted the students to work hard in life to get success. He distributed the proficiency prizes and over-all ever
rolling trophy for the academic year 2018 – 2019. The special guest Mr. P. Babu Rao also inspired the audience as well the students with his enthusiastic words. Parents' representative Mrs. Esther too addressed
the gathering. The main highlight of the day was the cultural programmes. All the students entertained the audience with their own extraordinary talents. All the parents and other guests enjoyed the evening watching the
programmes. Vote of thanks was raised by head girl V. Sruthi.
Finally, with a patriotic dance we commemorated the soldiers assassinated by the bomb blasting in Kashmir. At the end national Anthem was sung and the Annual Day celebration came to an end.
– Sr. Reena Kidangen D.C.P.B., Principal,
St. Joseph's E.M. High School,
Jagannadhapuram