This year marked the decennial celebration of St.Thomas' parish church at Koduru, which was blessed and inaugurated on 23rd February, 2009. There was a celebration for three days from 20th to 22nd February, 2019. The feast day was preceded by a two-day charismatic prayers as part of the spiritual preparation for the feast.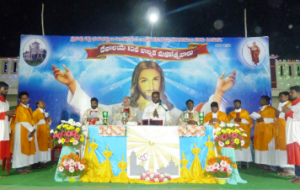 The two days were animated by Rev. Fr. Pamu Joshi Sudhakar, the Coordinator of Diocesan Charismatic team and Fr. Dagani Xavier, MF. On the auspicious day, 22nd February, 2019, the Eucharist was presided over by Msgr. Muvvala Prasad, the Vicar General of the diocese of Vijayawada. The Eucharist was heralded by the meaningful Rosary procession with the statute of Our Lady. In his homily, Msgr. Prasad preached on the importance of the Church as the temple of God and that each one must become a living Stone in building the mystical body of Christ, the Church. The Eucharist was concelebrated by Fr. Jan Tilleman from Belgium, Fr. Guzzula Michael DGM and Vicar Forane of Machilipatnam Vicariate, Fr Pasala Thomas, the director of Social Service Centre and a few other priests. A sumptuous meal followed the Eucharist and
marked the fellowship of the community.
– Fr. Kama Christu Raju, Parish Priest, Koduru